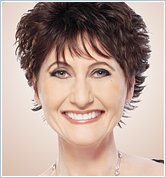 Lauren Mackler
Lauren Mackler is a world-renowned coach, keynote speaker, bestselling author, and host of the weekly Life Keys show on Hay House Radio. She has risen to international prominence by developing Illumineering, a groundbreaking coaching method that integrates family systems work, psychodynamic psychology, and coaching to free people from the shackles of their life conditioning and create the lives to which they aspire.
Over the past 25 years, Lauren has been a psychotherapist, consultant, corporate executive, and a leading authority in human behavior, personal transformation, relationships, and leadership. She is the author of the international bestseller,
Solemate: Master the Art of Aloneness & Transform Your Life
and fellow author of
Speaking of Success
with Jack Canfield, Stephen Covey, and Ken Blanchard. Before entering the personal and professional development field in 1982, Lauren worked in the entertainment industry as a host on the
PM Magazine
television show and as a singer in the recording group
Tuxedo Junction.
After leaving the entertainment business, Lauren became a psychotherapist and lived in Germany for several years, where she gained national recognition for developing a unique psychotherapeutic method that combined the principles of psychoimmunology with psychodynamic psychology. Returning to the U.S. in 1995, Lauren entered the corporate arena, where she led Arthur Andersen's New England People Strategy consulting practice and served as Vice President of Learning & Organizational Development at Boston Financial. In 2001, she founded Lauren Mackler & Associates LLC, integrating her unique combination of expertise in psychology, holistic healing, business, and leadership to develop coaching programs, workshops, and professional trainings that are recognized as among the best in the world today.
As a leading expert, Lauren is frequently featured in the media, a partial list of which includes CNN, FOX,
The Wall Street Journal, The Huffington Post, The Daily Mail, NPR, Money Magazine, Living Fit, Body & Soul, Marie Claire, Ladies Home Journal, and The Boston Globe.
Lauren frequently appears as a keynote speaker, and facilitates workshops at Omega Institute, Kripalu, Esalen Institute, Canyon Ranch, and other retreat and conference centers around the world. In 2009 Lauren founded the Illumineer Coach Institute, which offers Illumineering Coach Trainings to train and certify professionals in the Illumineering method.
Lauren holds a Bachelor's degree in Psychology, Masters-level German certification in Psychotherapeutic Counseling, a Master's degree in Organizational Development, and she is a graduate of The Lee Strasberg Theatre and Film Institute.Lauren's website:
www.LaurenMackler.com